Being a student is quite expensive and stressful. You're probably one of those accumulating student debt and thinking about how they'll clear it. 
On the other hand, you want to live comfortably in school without making your parents sell the earth so as to afford your allowances, right? Sadly, the allowance they give you isn't enough. I get it. Thank God there are many online business ideas in this article.
So, which online business can I do as a student? You ask.
You can start an online business as a student. Some options include blogging, reviewing online products, web development, forex trading, tutoring, and product selling. All these options are profitable. The most promising, however, is forex trading and web design.
The best business for students is one that won't interfere with coursework.
For an in-depth look into these options, read on. We'll also explain factors to consider as a student getting into online business.
Which Online Business Can I Do As A Student?
Starting a business as a student is a delicate matter. You've to consider how much money you'll need as capital for the business since it's online. Plus, which platform is convenient for you, and how much time and effort is required at the initial stages of the business for it to succeed? 
Thankfully, these businesses for students are easy, with little or no capital, and have great returns.
Some part-time business ideas for students include,
Offer tutoring classes
Trading on forex markets
Web development
Reviewing products online
Selling on online stores
Partaking in affiliate marketing
Writing blogs
Curate audio entertainment
I'll take you through each of these businesses in detail. So, read to the end.
Writing Blogs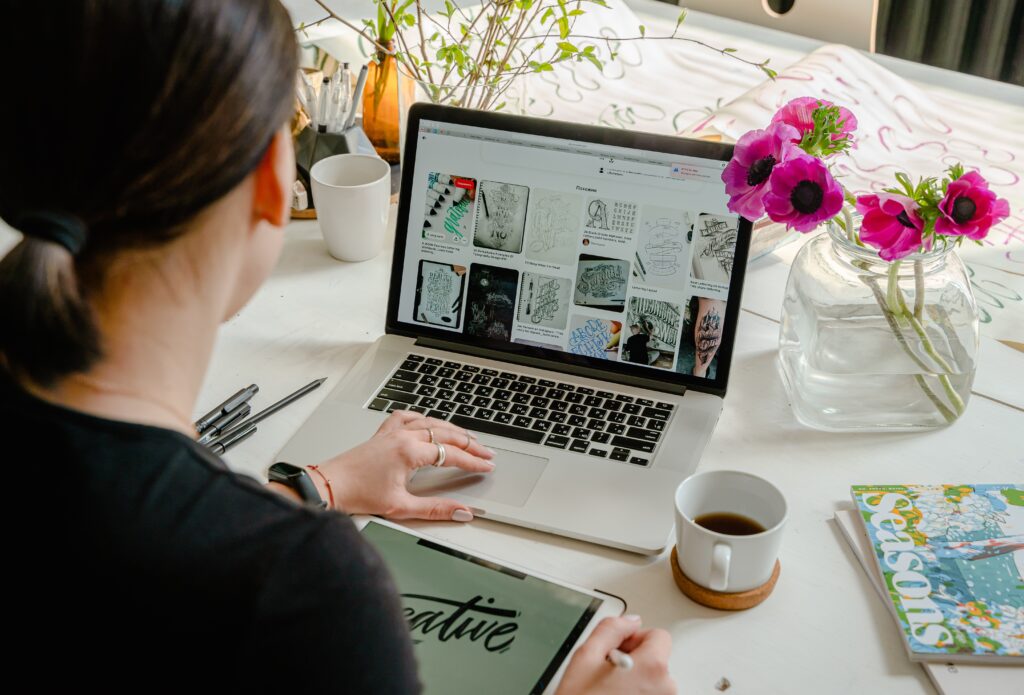 Blogging is one of the most common online businesses students undertake. It involves publishing information through words and pictures on the web. For blogs to grow,  earn money, and be paid through freelance payment modes, you'll need to update content and share it on other social media constantly.   
There's an infinite number of topics to discuss. You can choose to sell your photography, write articles on the various things you're good at, and create package plans for people to buy.
Also, you can create freelance business articles. Please note, that this is highly profitable if you're a business student. It helps you build a portfolio.
Partaking in Affiliate Marketing
Marketing is a simple online business for students. Affiliate marketing involves promoting products on the world wide web using links. If people click on the link you've provided and buy the product, you get a commission.
The more people click on your link, the more money you make—you should be excellent at promotion and marketing. However, you don't need much experience to make some passive income.
Selling on Online Stores
Photo by MART PRODUCTION on Pexels
Product stores are the most common online business for students. Having an online store is very popular these days. With enough money for capital, you can buy stock on anything and sell it on any of your social media platforms.
Places like Facebook marketplace and Instagram are fast-selling platforms. To avoid risks, buy only enough stock for clients you're sure would be willing to purchase, and buy stock on popular products among students. 
It's advisable to sell within your age group since you know them better. Pricing would also be straightforward because you're in the same economic bracket.
However, owning an online store is demanding.
Why? You'll need to be available to answer questions from the clients, go for stock, and deliver the bought goods. Having a store takes a lot of time away from your school activities. So, before undertaking this option, be sure that your coursework isn't demanding.
Reviewing Products Online
A less tasking online business for students is reviewing products online. You're free to choose any product to review, from cups, books, pens, clothes, and even surveys. Just browse the internet for sites that pay to review products and sign up. 
The only thing to note is that the commissions aren't usually high for reviews, and you'll need to be online to catch when the announcements and links to writing reviews are issued.
Web Development
Are you disinterested in any of the above jobs? Are you still asking, "What business can I do online in Kenya? Well, how about you do web development?
Web development isn't only an online business you can start as a student but also a skill that'll be useful even after school. Even so, you'll need a basic understanding of computer science to excel in web development.
Your designs should be unique and in tune with the current market. This kind of online business offers high income for those who are good at it.
Trading on Forex Markets
Forex trading is done on forex markets that are open 24/7, meaning you can log in and trade at any time. It's, however, a mind-engaging online business. If you've never traded before, it's best to have a coach help you as you start. 
Chances of losing your money are up there, but a coach could help to save it. Knowledge is power, remember?
Photo by energepic.com on Pexels
You're probably aware of how trading works or have heard it at least once, and it has become an online business for students from home.
It's pretty popular with students who learn from the comfort of their homes since they're constantly connected to the internet; checking the market is more manageable.
Offer Tutoring Classes
Tutoring is by far the easiest option for students. It's also a business that almost all adults willingly support. So, feel free to exploit the opportunity. If, therefore, you're gifted in a subject, you can market yourself as a tutor to your fellow students. 
These classes can be online or physical. Besides, you can record videos and share them on any social media platform with people who pay a subscription fee. Online videos save you time because you won't need to be there to take students through the various classes. 
Suppose you prefer face-to-face classes? You can post advertisements and the time of classes. Other students can join the course. Tutoring is beneficial because it earns you money and helps you in revision. 
With the current learn-from-home policy, it's easier to become a tutor and possibly take it as a part-time business because your study hours are more flexible.
Curate Audio Entertainment
Audio entertainment ranges from video diaries like vlogs to podcasts. These business options have become very popular among Kenyan students. 
Moreover, there are multiple free sites to publish recorded audio and create subscription lists to earn. Vlogs on youtube earn money depending on partnerships you make with brands. 
But…
What is the Best Online Business for Students?
The best online business for students doesn't interfere with school work, for example, blogging, reviewing products, and participating in affiliate marketing. Being a student is demanding, and some courses need more time than others. So, do these business ventures that aren't as demanding in both time and mental energy.
These businesses are flexible regarding the time you'll need to put in and offer reasonable pay.
What Business Should I Start as a Student?
As a student, you can start any small business, from selling products like clothes or writing blog posts online. Some options may require capital, and others don't need money to start.
Assess your position regarding time, money, and market opportunity before deciding which one to start.
If, however, you need to earn income fast while still figuring out which stable business to get into, an easy venture is leaving product reviews so other buyers can read them and decide if to buy the products or not. They offer minimal pay, but as a student, the amount is enough to keep you afloat as you figure yourself out. 
What Business Can I Do in the Student Area?
Most student areas, like school standard rooms, aren't open for students to use to conduct business; however, every situation is different. If your school allows you to run a business in student areas, some profitable ideas include selling stationery. 
Students need books, pens, printing papers, and revision materials – therefore, you'll always be assured of the market.
Another business idea for student areas includes selling refreshments and clothes and offering tutor lessons on any subject that you're good at for reasonable prices.
What Business is Most Profitable for Students?
The most profitable business for students is either trading forex or selling via online stores. Forex trading earns a lot if you're good at trading but may require you to have a significant sum because it involves paying for classes to learn how the market works.
Selling online stores requires very little capital. Most, if not all, students have social media. Therefore, if you're good at socializing and marketing your products, having an online store for products like clothes and stationery is a sure way to earn you money fast. 
Frequently Asked Questions
How Long Can I Have an Online Business as a Student?
You can have an online business as a student for as long as you want. There's no time limit for you, even if you're a student. As long as you have time and resources, you can continue running your online business.
You'll, however, need to be more organized with your time and learn to prioritize tasks throughout the day. Always ask friends for help whenever things get overwhelming.
The Verdict
As you've seen, you can start an online business as a student and make money – even enough to pay for your school fees.  There's no time limit, and as long as you've got the time, you can do any business, from tutoring fellow students, developing websites, selling online stores, writing blog posts, curating audio entertainment, and partaking in affiliate marketing, among others. 
When you're ready to get started, it's essential to ensure you don't let these businesses prevent you from working on school tasks.