You have an excellent profile. Superb skills, but no jobs yet. You wonder, "How do I get noticed on Upwork?" First, are you bidding?
Days when Upwork used to give 60 free connects are gone and forgotten. Today, you have to buy connects. At least, for a new account, they will give you 20 free connects. These are not enough to land you a job unless you are VERY smart in bidding.
So, you will need to buy Connects as soon as the free ones are exhausted. Besides, if you do not buy connects, you cannot bid. Eventually, your account is switched to private. In worst scenarios, suspended!
Being in private mode should not worry you much. Being suspended is the real monster! Most likely, you will not have that account again.
Therefore, buy more Connects, and bid professionally to land a job or more.
But before we talk about buying connects, here's something to take home; there are instances when you don't need to buy connects to bid for a job.
Yes, you heard that right!
Instances When Buying Connects Is Not Necessary
Some clients may send you an offer. This mostly happens after you have worked with a client in the past. However, that may not always be the case. A client may have looked at your profile, loved the rating and the past client's feedback, and opted to send you an offer!
In case you get an invitation from a client without bidding, then you will not need any Connects.
Anytime you send proposals in the Enterprise Talent Cloud, you will not need any Connects.
Back to where we were;
How Do I Get Noticed On Upwork? Guide on How to buy connects!
Are you always hearing awesome testimonies on how people are earning big on Upwork and wonder, "How do I get noticed on Upwork?"
I am here to help…Head on to your Upwork Profile photo and click on it. On the drop-down, select the "Settings" options.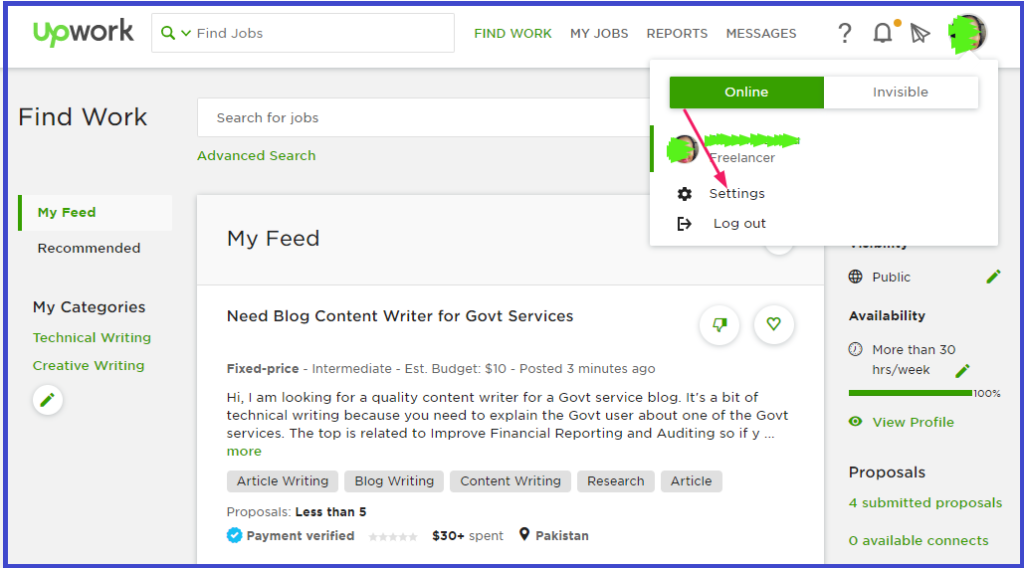 Under "User Settings," click on the "Membership & Connects" option.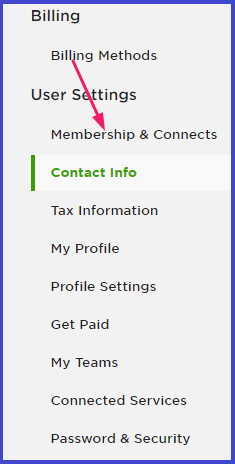 You have zero Connects! That's why you are wondering, "How do I get noticed on Upwork?" thus want to solve this by buying new ones, right? So, click on "Add more connects."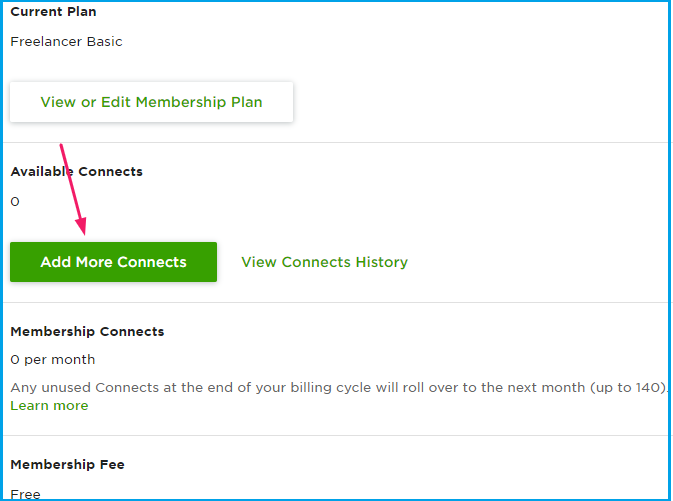 Depending on how much you have, or wish to spend, choose the most favorable option:
The minimum Connects you can buy are 10 for $1.5, and the highest are 80, going for $12.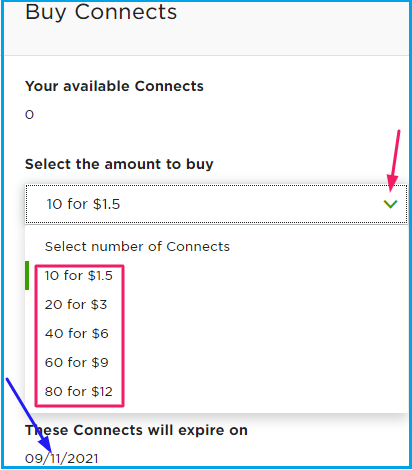 Unlike previously, where the 60 free Connects were expiring after 30 days, these Connects expire after one year. I believe by this time; they will have expired if your account is active. Isn't that so?
In our case, we will buy 10 connects for $1.5.
Heads up!
I made a mistake here. I was to buy 10 connects for $1.5. When I clicked on buy connects, I didn't realize the purchase had been successful. So, I clicked on "Buy connects" again. And boom!! Purchased an extra 10 connects! Be careful; check the number of available connects once the page is refreshed to avoid making the same mistake!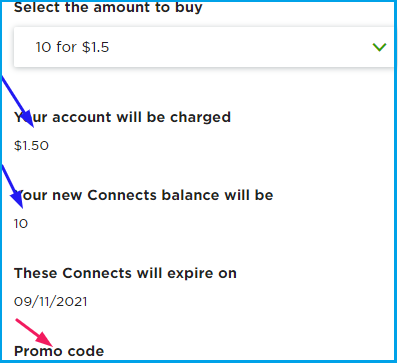 If you have used promo codes before, you know that the code helps you to buy products or services at a discounted price. That, therefore, makes everyone want to use the promo code. Unfortunately, not all of us have access to the code.
This is why.
Aleksander D, who is a moderator at Upwork says;
"Please know that we do not have promo codes at this time. Promo codes are offered through email at Upwork events or through partnerships. If you're not getting any marketing emails from Upwork, you can submit the following form and we'll add you to our list. Please know that you can always unsubscribe from the emailers at any time."
We now know that we do not have the promo code, nor can it hinder us from buying connects.
Hint:
Note: If you ask them to deduct money from your bank account, they will do so if there is enough money. Otherwise, they will deduct it from your primary billing method on your Upwork account.
Don't know what the billing method is all about! No trouble, I will cover a little bit on that later (if you want to read on that right away, scroll down).

Now, click on "Buy Connects."
There are two methods by which you can buy connects:
Payment card: Using your bank account.
PayPal: If you do not have a bank account, you can use your PayPal account. If you do not have a papal account, too, there is no need to worry.
It takes just a few minutes to create one.
Here's a DIY guide on how to create a PayPal account in Kenya.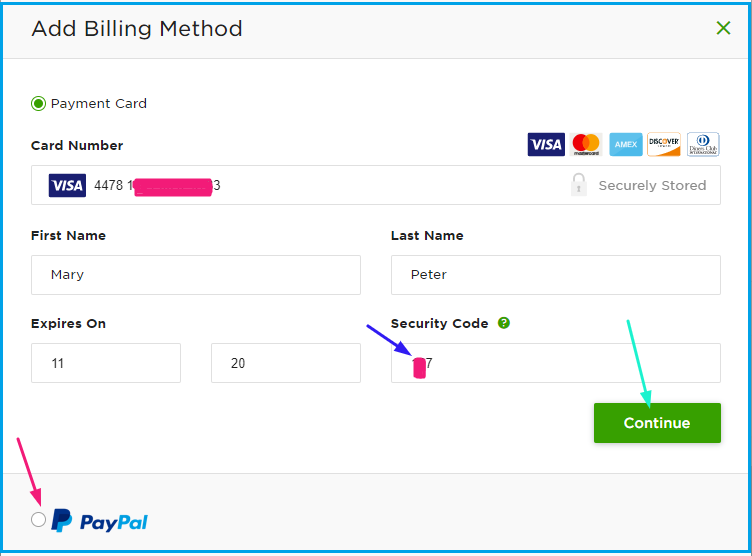 Let's start by using the payment card method.
Start by entering the card number (not the account number). Enter the expiry date of your card as indicated in it. Do also enter the security code.
This is a 3-digit code found on the back of your VISA card. If all details are accurate, click on "Continue."
Alternatively, you can use the PayPal payment method. Click on the PayPal check box and enter your PayPal email address and password. Next, click on the login option.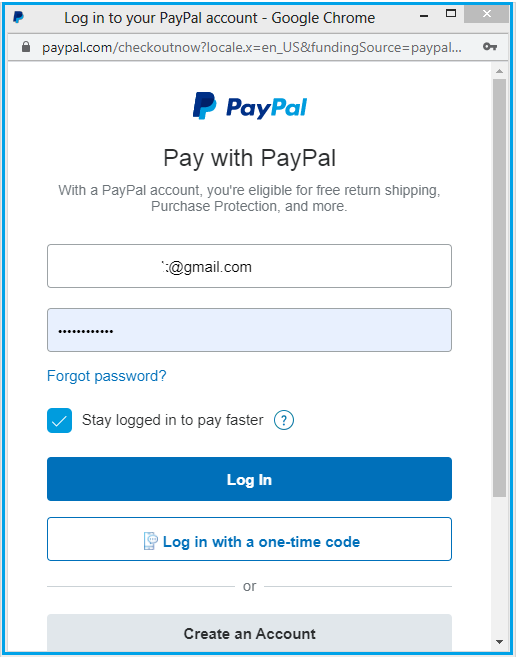 Whichever way you choose, you will be able to buy your Connects successfully.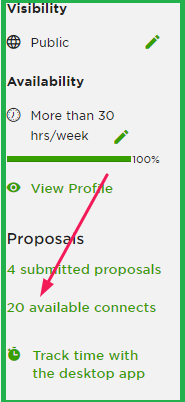 Adding a billing method
The answer to "How do I get noticed on Upwork?" is already settled now. Next, we need a billing method.
I am pretty sure that if you are buying Connects for the first time, you equally do not have a billing method yet.
Can we do this now?
Once again, click on your Upwork profile photo and select the "Settings" option.
Under billing, click on the "Billing Methods" option.

If you have not set it before, you will be modified that you have not set the billing methods yet. Click on "Add method."
A dialogue box similar to the one we had when adding the connects-payment card method will appear. Fill in your card details. (Alternatively, you can use the PayPal account as your billing method.)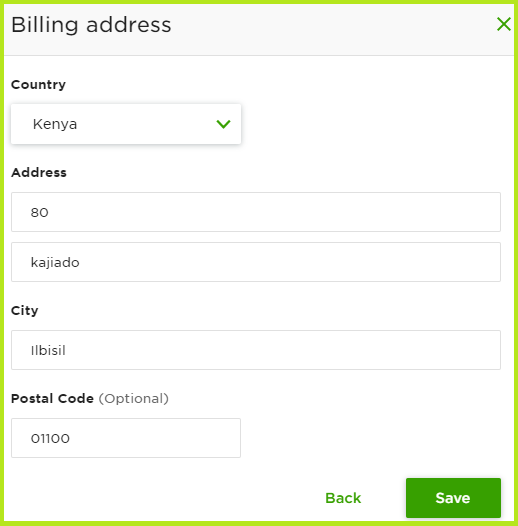 Next, you will be redirected to another dialogue box. Enter your billing address. Here, I would suggest you use the same postal address you used when creating your PayPal account. They must not be the same, but that is my sincere advice.
Once done, save the details.
Here's what we got.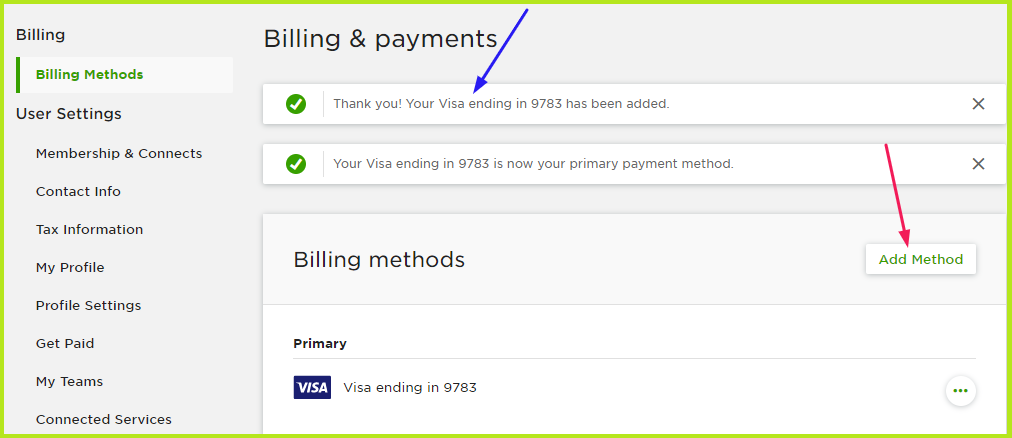 You can add another billing method if you like. In fact, I would recommend you do so. In our case, of course, it is going to be PayPal.
Loved the piece? Hit the share button so that others get to learn. Also, we would appreciate it if you left a comment.
Cheers!