One of the concerns of almost everyone who undertakes my comprehensive content writing course is how to create a PayPal account in Kenya.
This is because once we create accounts such as Upwork and Fiverr, trainees are now open to any job vacancies and can earn money online and get paid through Mpesa.
Of course, there are many online payment modes for freelancers. PayPal is one of the most trusted ones.
Fortunately, creating the account is free and takes only a few minutes.
And? Transactions can now be done in 25 currencies. Besides, over 200 countries support PayPal's online payment method. Kenya is one of these countries!
Interestingly, you can receive money, send money, or pay for goods or services using PayPal. Moreover, your credit card details are always safe!
So, how do you create the account?
Step-by-step guide on how to create a PayPal account in Kenya
1. Step One: Sign Up
Head on to the PayPal homepage and sign up for an account.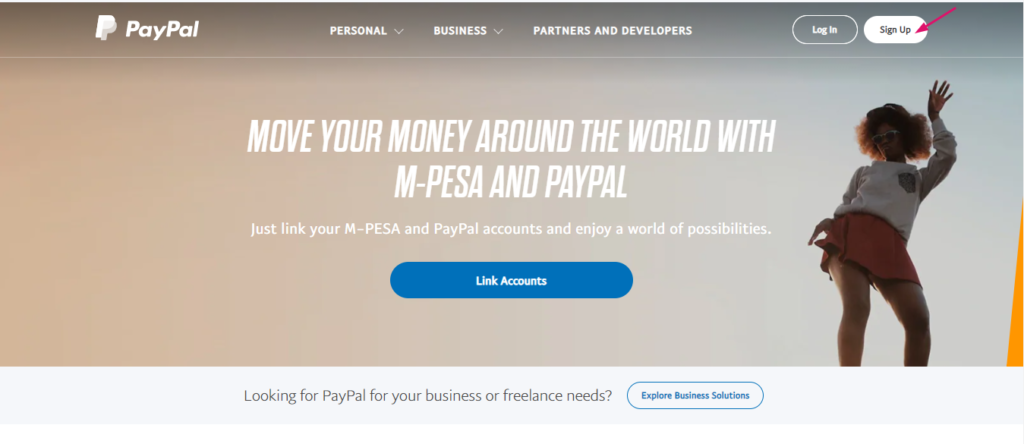 2. How to create a PayPal account in Kenya Step 2: Choose Account Type
Often, I have received texts and calls from writers asking me if they should create a personal or business account.
Well, you are an individual, a freelancer for that matter, right? So, go ahead and choose the Personal account.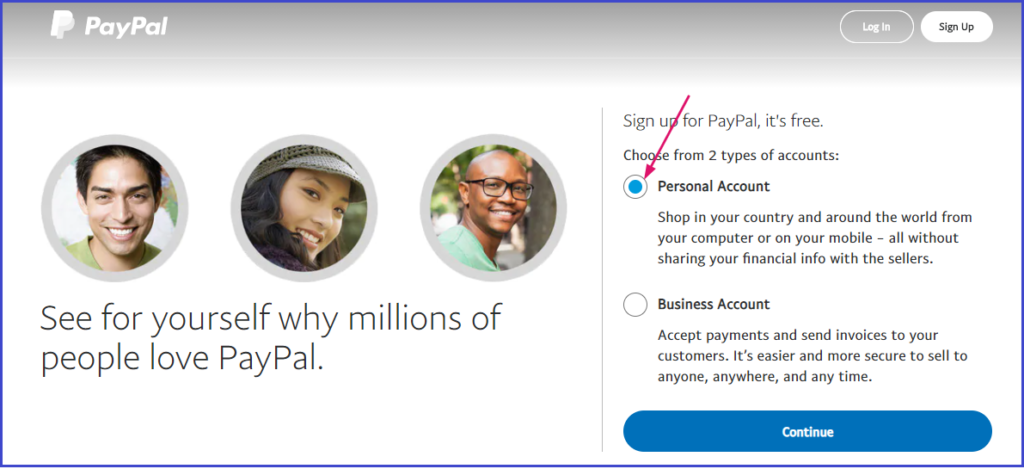 If, however, you own a company, a business, or work as a group, a business account is the way to go. Choose, therefore, the "Business account" option.
Though they work the same way, they are slightly different.
3. How to create a PayPal account in Kenya Step Three: Enter Contact
Next, enter your contact in the space provided and click on "Next."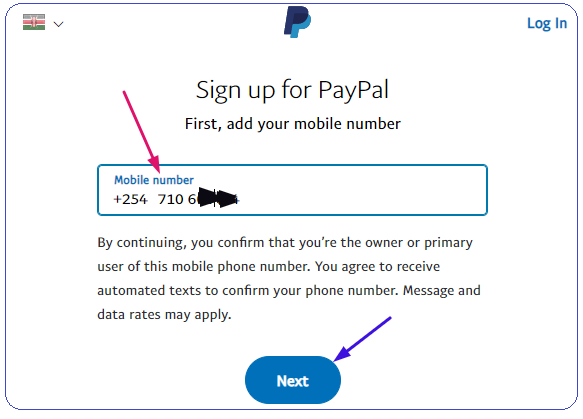 For confirmation purposes, PayPal will send you a 6 digits security code to the number you indicated. The code expires in 10 minutes. So, don't wait long.
4. How to create a PayPal account in Kenya Step Four: Set Up Your Profile
About your email, I would highly recommend you use your official personal email for this account.
Matters password; don't make a mistake; create a NEW password that is strong enough for anyone to guess.
To make it strong, combine small letters with upper case, and include numbers as well as symbols such as @ and #.
To be sure you have typed what you intended; avoid copy-pasting the password in the "confirm your password" box.
Instead, type it again. If it is correct, save it somewhere so that you can always refer once you forget it. Once done with everything and are sure all is correct, click on "Next."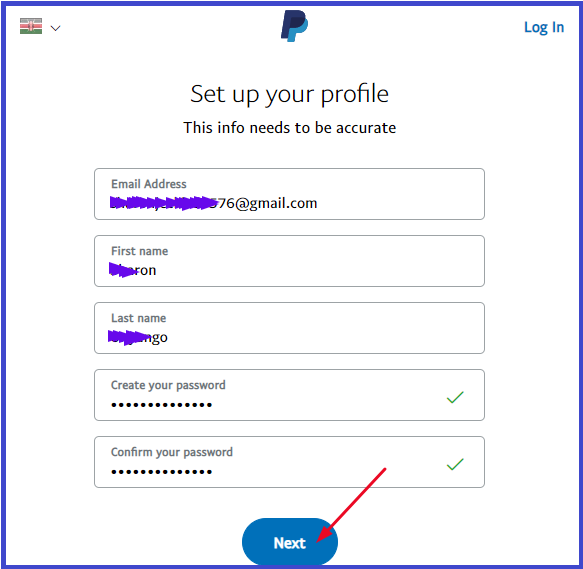 My recommendations? Let no one know this password. Or, let it be a password you have not used anywhere else when creating accounts. If anything, let these details be shared with a close family member or friend who is confidential and trustworthy.
HINT: Why should you share these credentials with a trustworthy person? We have heard of cases where a spouse has passed on. At his time of death, there was money in his/her PayPal account. If no one has the credentials, then their hard-earned money will be lost, right?
To avoid that, have someone have the credentials. Alternatively, record them where a next of kin can easily access them when need be.
5. How to create a PayPal account in Kenya Step Five: Enter the Correct Personal Details
Now, when it comes to entering your personal details, please note that PayPal is strict. As such, if you enter a different name other than the one on your identity card (ID), then you are likely to lose your money in the future. How? Sometimes they will need you to verify your account.
When they do, they will request copies of your original, colored Identity card (both sides). Plus, a bank statement that shows your transaction history.
(You can also use your driving license or passport if you do not have an ID. However, I would recommend using an ID.)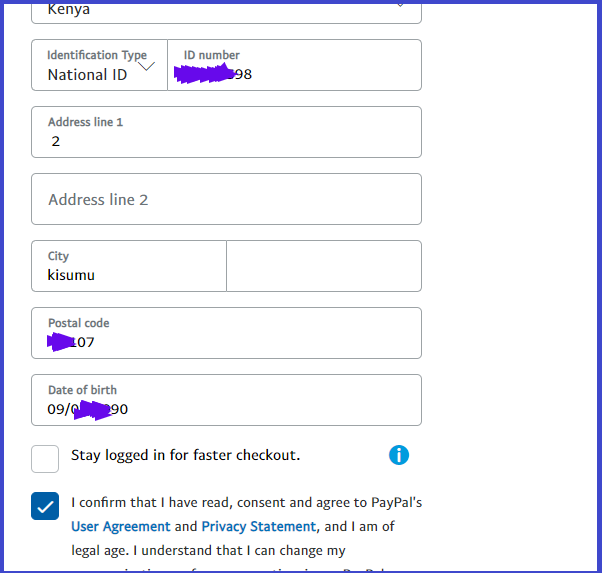 Please note: The address on your bank statement must be similar to that in your PayPal account. Note: I did not check the "Stay logged in for faster checkout" box because this is not my account. I am only using it for the purpose of this post.
If, however, you are creating the account and you are using a personal account, you can check that box. Otherwise, leave it as it is. Nonetheless, you must accept the "User Agreement and Privacy Statement" check box. Otherwise, the application will not go through.
Done? Click on "Agree and Create Account."
6. How to create a PayPal account in Kenya Step Six: choose how to use the account
Congratulations, you are now in! This is the time to link your account with your PayPal account. To do that, you need to choose either of the two options depending on how you will be using the account.
I just chose the first one, even though I will be using the account for freelancing. You can still use it to shop, like when you are buying the best chair for scoliosis. I have done that in the past without any issues. So, fret not; choose either option.
Then click "Get started" or "Try it now."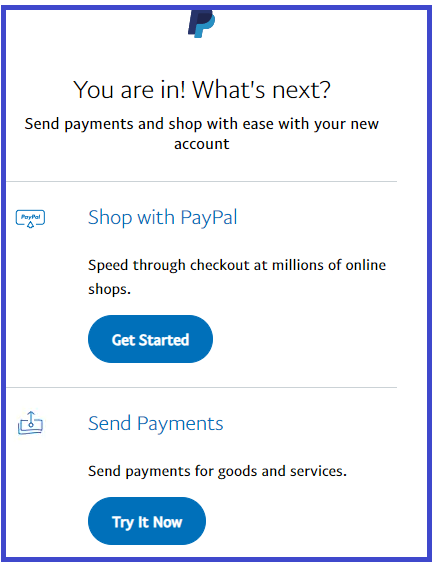 7. Step Seven: Link Card
Heads up! You should have at least $2 in your account. This is because the PayPal team will deduct 1.95 USD from your account. This they do so as to verify if the account is active or not. They will, therefore, deduct the money and then refund it. You may read this article for clarification on how much they will deduct.
If you have that amount in the account, proceed.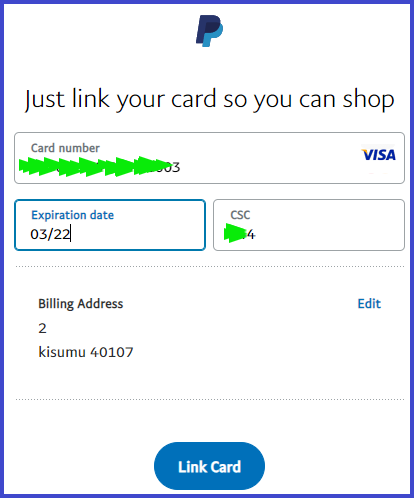 Don't confuse; you are supposed to enter the card number, not an Account number. Enter the expiration date and the CSC (Card Security Code). CSC is the three digits code that is behind your card.
If, however, it is an American Express Card, the 4 digits are on the front side of the card.
You can now click on the "Link Card" option. A dialogue box, like the one below, will pop up.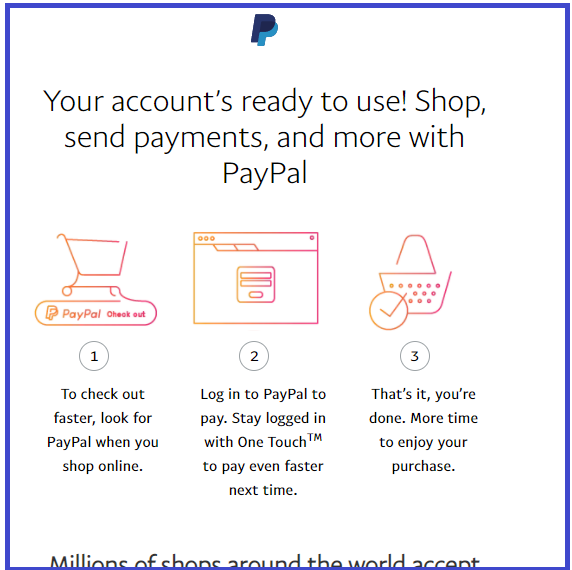 That means you have successfully linked your account to PayPal!
So, scroll down and click on the "Go to your account" option.
Great, you are all set to make a payment, receive payment, and shop around the world!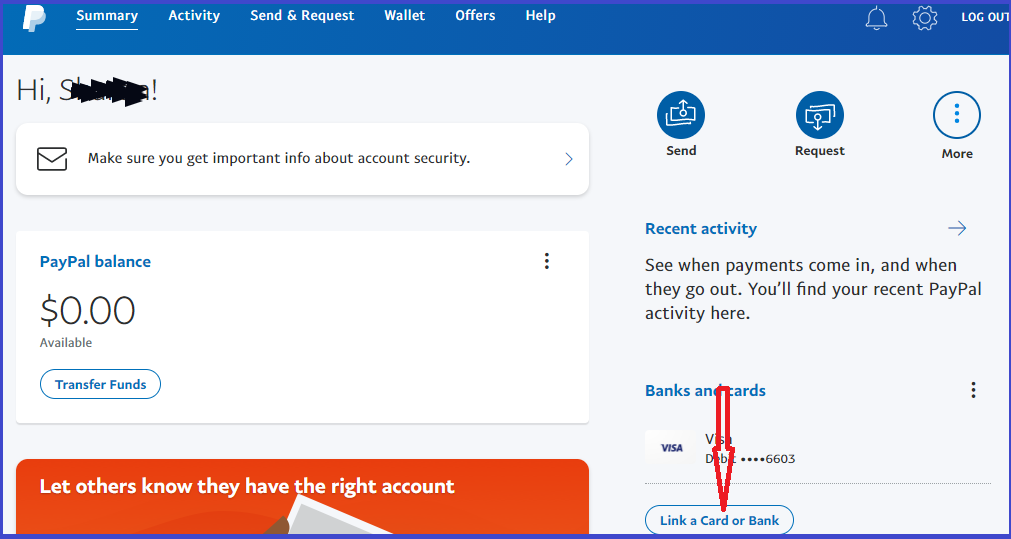 In case you want to add another card, click on the "Link a Card or Bank" option.
That is it! It was easy, wasn't it?
Just before I go away, here's something you need to know as a newbie.
Hint:
I was once stuck when my first client asked, "What's your PayPal ID?"
I was excited to know that I was about to earn my first bulk, but how do I get paid? What's my PayPal ID? This could be the next thing you'll hear.
I am here to help. The email you used to create the PayPal account is your PayPal ID. So, whenever a client wants to make a payment through PayPal, give them that email. Now, you can withdraw your money from PayPal to Equity without any trouble.
Alternatively, withdraw money from PayPal to Mpesa.
I would love to hear from you. Was the article helpful? If yes, how about you leave a comment? If you have any questions, I will be pleased to answer them. Just leave a comment.