John is a freelance writer in Kenya. He recently got paid via PayPal. And though he's delighted about working online and getting paid for his writing efforts, his excitement is short-lived. Why? Because he's clueless about how to withdraw money from PayPal to his M-Pesa wallet.
Are you facing a similar situation to John? Perhaps even longing to understand the PayPal to M-Pesa withdrawal process in a more clear, coherent, and organized way?
This post provides a clear-cut step-by-step process on how to withdraw PayPal funds directly into your M-Pesa wallet (in a way that even your grandma can understand).
But first, here are quick facts to ponder on:
It wasn't until April 19th, 2018, that Kenyans were able to directly move money from PayPal to their M-Pesa accounts – never mind at affordable rates.
Before PayPal partnered with Safaricom to facilitate the withdrawal process, PayPal to M-Pesa agents– honest and unscrupulous alike –dominated the market with glee charging steep facilitation fees. In return, they offered instant money withdrawal/deposit services.
Freelancers like John instead opted to withdraw PayPal funds via Equity Bank at reduced fees. But this alternative withdrawal method took 8 days back in 2013. It now takes 3 days.
Today, you can withdraw money from PayPal to M-Pesa in only 1 minute; previously, it was 2 hours!
Now, let's head on to the withdrawal process. Shall we?
#Register to the Service
This is the first step to moving funds between your PayPal and M-Pesa accounts. It's so easy to register to the PayPal mobile money service. Just follow this link, and click "Get Started."

You must have a PayPal account before you proceed to register for the PayPal mobile money service. Sign up for an account, then proceed to register for the service.
Also, remember the name used to register your M-Pesa account should match the name on your PayPal account for the successful transfer of money.
Otherwise, all your transfer efforts will be futile if there's a name mismatch on the accounts.
#Use Your PayPal Account and Email Address to Log In
Once you click the "Get Started" button, you'll be redirected to your PayPal account. Here, use your email address and password to log in.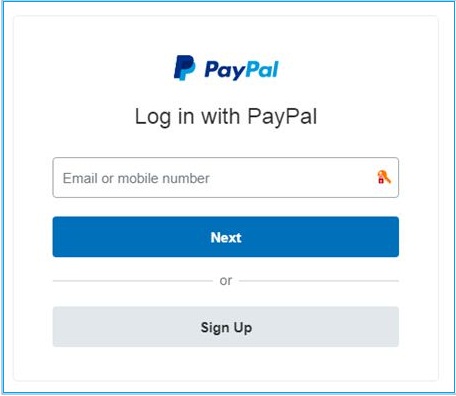 Please note: The PayPal mobile money service operates independently and is powered by TransferTo – a Singapore-based cross-border payment business service.
That's why you need to use your PayPal account and email address to log in (before you can use the service).
#Link Your PayPal and M-Pesa Accounts
You have registered for the service. You have used your PayPal account to log in to your PayPal Mobile Money Service account. The third step is to link your PayPal and M-Pesa accounts.
How to do this?
Enter your M-Pesa mobile number, then click "Link your accounts".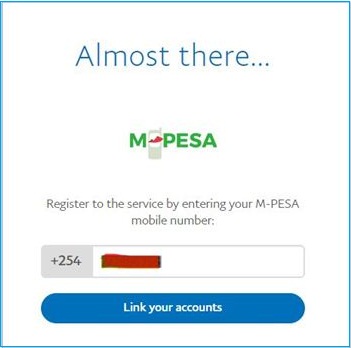 #Enter Confirmation Code
Immediately you hit the "Link your accounts" button; you'll receive a confirmation code via text message. Enter the code and click "Confirm" to complete your registration, and voila!
Congratulations!
You have successfully registered to the service and linked to your PayPal and M-Pesa accounts and can now withdraw from PayPal to M-Pesa. In only one minute!
So How Do I Withdraw Money To My M-Pesa Account?
I'm glad you want to know.
Now that you have successfully linked your PayPal and M-Pesa accounts, the next step is to withdraw funds from your PayPal to your M-Pesa wallet.
To make this possible, let's head back to the homepage of your PayPal Mobile Money service account. Do you see the "Withdraw from PayPal" button? Yes? Click on it.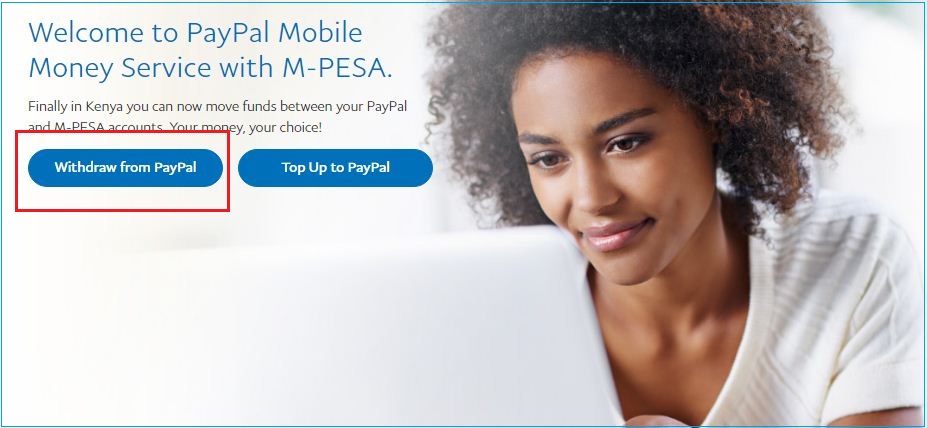 #Withdraw Money
By clicking the "Withdraw from PayPal" button, you'll come into full view of your available balance in your PayPal account but in U.S Dollars.
Enter the amount of money you wish to withdraw in the section circled below, then click "Continue to Withdraw."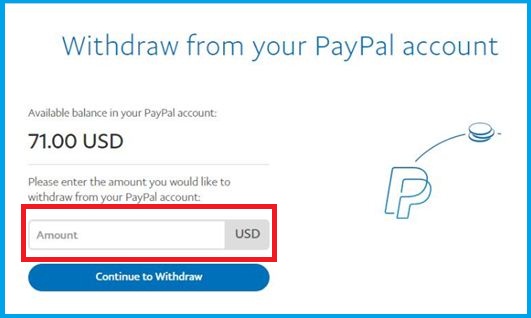 #Verify the Withdrawal
Let's recap.
You have linked your PayPal and M-Pesa accounts. You have authorized the system to withdraw money from PayPal to M-Pesa. Now the final step is to verify the withdrawal.
When you click the "Continue to Withdraw" button, you'll see the amount debited from your PayPal account automatically converted into Kenyan Shillings.
On the same page, you will see the time it takes for your money to be accessible in your M-Pesa account. Click "Confirm" to complete the money transfer, and that's it!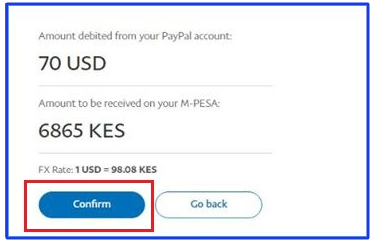 Important To Know….
At times, PayPal may limit your PayPal account due to various reasons. That being said; any money that is there will no longer be accessible. Mostly, they will limit the account to 180 days (6 months). That's not a short duration.
However, at times, they will ask you to provide certain documents, which, if they are content with, will lift the ban.
Nonetheless, if they do not, you must wait for the 180 days to elapse. Once they do, they will send you an email telling you that the funds are now accessible.
Here's what to do after that;
Log in to your PayPal account.
Click on the "Contact Us" option. Alternatively, you can click on the "Help" option.
Send them an email explaining that you live outside of the U.S. and do not have a U.S. bank account. Further, explain that you want to send the money to another PayPal account (a friend's or relative's PayPal account).
Request them to lift the ban so that you can send the money.
Send an email and wait for their response.
You should receive an email from them approving your request.
Hint…
Just so you know, sometimes the account is not limited because you have done anything wrong. No! I am a victim of this limitation. It is the worst thing that can happen to you, especially if you are using the account to receive or pay money. While you can still receive money, you cannot withdraw it.
My account was limited a couple of months ago. There was nothing wrong I had done. I was told to verify if it was my account. One of the things that I was asked to provide is a bank statement.
There is no need to panic, though I did.
Here's what I did. I requested my M-pesa statement. Of course, since I earn money online and get paid through Mpesa, it was easy to show the transactions. I mean, once I receive the money in my Paypal account, I don't send it to Equity rather, I send it to Mpesa.
So, I requested my Mpesa statement, edited the postal address to look like the one on my PayPal then sent it to them.
Remember, they will also ask for your colored ID (Identity Card); both sides.
Conclusion
The PayPal to M-Pesa withdrawal process is simple to execute, right? Well, that's because it is.
If you are keen to follow through with all the steps as provided, you will have your M-Pesa account credited with money in seconds. And you'll be free to use your money locally as you like.
Is my money secure during the transfer, you ask? PayPal is a worldwide trusted authority in the money transfer business. And Safaricom – parent company to M-Pesa – is a globally recognized Telcom and money service provider as well.
Your money couldn't be any safer.
If you encounter a problem during the transfer of money from PayPal to M-Pesa or a technical hitch when you try to withdraw money, kindly contact PayPal's customer service for quick assistance.