My greatest desire as a freelance writer is to continuously make money regardless of being asleep or awake. I mean; I want to make money when I'm sleeping, driving, praying, exercising, preaching, and the like. That's what passive income is all about. One of the ways to make passive income is through affiliate marketing.
So, what is affiliate marketing? This involves making sales or leading traffic to an online retail shop. It is that simple. But no, it is not easy as some make it look or sound. More on that later. So, how do you earn from affiliate marketing? Every time somebody buys a product through your affiliate link, you receive a commission.
A Few Processes Are Involved In Making Affiliate Marketing a Success
Firstly, there is a merchant who is also called a retailer. He gives the affiliate a unique code that helps him to promote the product(s). The affiliate writes product reviews so that he can be in a position to add his unique link. Once the post is live, any interested buyer will click on the affiliate link to buy the product. They will definitely accept the cookies and make a purchase.
Learn how to write product reviews like a pro
What's the purpose of cookies in affiliate marketing?
You see, a client may have seen the product, liked it but doesn't buy it at that time. However, as long as he has accepted the cookies, a unique ID will automatically be given to him through those cookies. Nonetheless, it is good to note that cookies have a predefined lifespan which can be anywhere from 60 days.
Moving on to the processes involved in making affiliate marketing successful, once a purchase has been made, the retailer checks for the unique affiliate ID on the cookies to know who is the affiliate behind that sale. Automatically, he credits the concerned affiliate with the sale.
That way, as an affiliate, you receive your commission depending on how much you are supposed to earn for that product.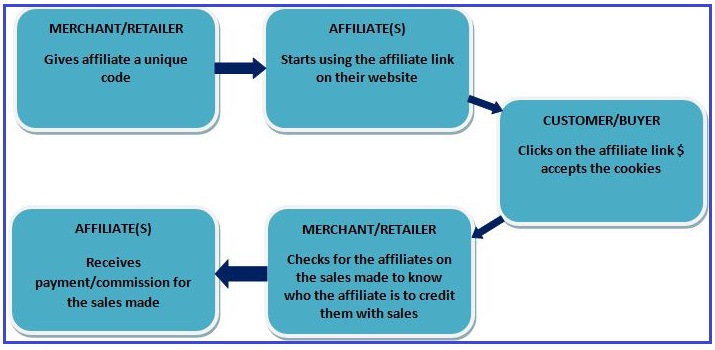 So, is affiliate marketing worth your time, energy, and resources? Let me share some of the benefits that come from this online business; then, you can judge for yourself if it is worth venturing into it or not.
The Benefits That Come With Affiliate Marketing
It Is Easy To Get Started
Yes, it is so easy to get started. And it is 100% free to join the affiliate world by signing up. All you need is a dashboard which you get after signing up for an Amazon associate account. Well, you must not be an Amazon associate. You can as well be an affiliate of:
However, I chose Amazon because (to me) they are the best.
Nonetheless, it is highly advisable that you have a disclosure statement on any page you have an affiliate link.
Why?
It is a requirement by the Federal Trade Commission (FTC). Again, it saves you lots of trouble just in case there is an issue with the product you are promoting.
No Limits On Income
No limits on your monthly income! Yes, you heard me right. You can earn as much as you want. Actually, I wouldn't be wrong to say that you are the sole determinant of how much passive income you can make.
Yes, you determine, though indirectly. Why? Just as I said, if you have some great tactics for leading more traffic your way and convincing many people to buy your product, no doubt there will be great rewards.
Actually, with traffic of, like, say, 500 daily visitors, chances of making lots of money will be high. But again, you can make zero income if you don't do things the right way. So, learn how to do affiliate marketing in the right way to earn good passive income from it.
One Offer Can Cause An Increase In Traffic
Giving offers all the time on every product you are selling at times may lead to lower profits, if not losses.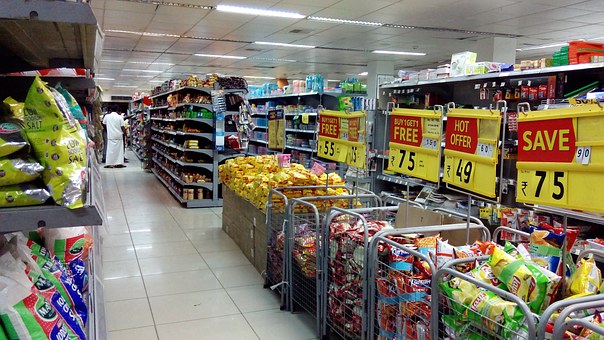 That being said, you need to be wise when trying to drive traffic to your site. For example, you can sell many products but give an offer on only one product.
However, it would be wise to give an offer on the product you know people love most. If for example, it is an eBook, give an offer on an eBook that is giving solutions for issues people have been struggling with.
Such an offer can cause a lot of traffic on your site and increase your passive income.
With Good Reputation, You Get More Trust From Buyers
Let me be sincere with you. Any business is always easier to start if you have a good name out there. Trust will make people believe your words and click any links you ask them to click; follow people you tell them to follow and buy products you tell them are good.
Yes, they will even disconnect with people you tell them are not worth their time. I have seen it, and I know trust is worth a lot.
Let me show you a good example.
When I started offering an online course (article writing), many people did not know me, and only those who were willing to take risks joined my online course.
Nevertheless, when my mentor/trainer, Walter Akolo of Freelancer Kenya, published my testimony, many people started reaching out to me in huge numbers. It was now easy for many people to trust my services.
On the other hand, those who took the risk and realized that my article writing course was excellent; gave me a five-star review which also increased trust from people who were hesitant to join my online course.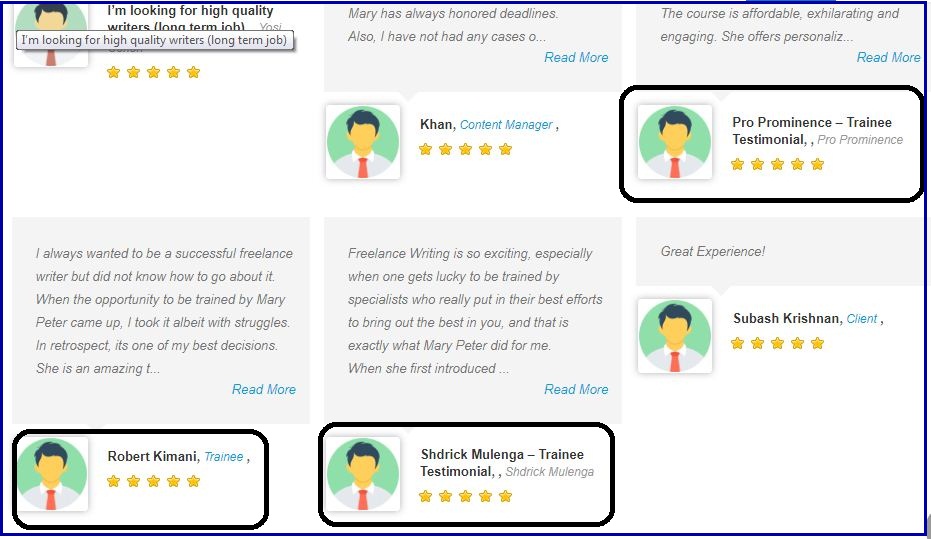 As a result, I was able to boost my passive income through an online article writing course.
You Don't Need To Have A Blog To Get Started
I have said that you need to write content so that you can add your affiliate link to it. That is true, but you don't have to start a self-hosted WordPress blog for you to do affiliate marketing. I know several people who do not have a blog/website, yet they are making passive income through affiliate marketing.
You may use a landing page to promote and sell your products. If you do not know how to create a landing page, this link will definitely be of help to you. If, on the other hand, you love videos more than text, here is a video that will help you create an excellent landing page.
You may also choose to use social media platforms such as Twitter, Instagram, and Facebook to do affiliate marketing. Nevertheless, not all programs will allow you to use some social media platforms. Some will restrict you.
Plus, some sites will require you to have around 500 followers to use social media to promote products. You should, therefore, know the set rules and regulations before you decide on which method to use so as to promote your products.
Tips to Help Increase Passive Income Through Affiliate Marketing
Research On The Most Profitable Niche
The first thing to do should be to find a profitable affiliate marketing niche. This lowers the chances of starting and failing and makes it possible to succeed soon after venturing into this online business.
Let's agree here. No one chooses to become an affiliate marketer without having the motive to make money-good money! Affiliate marketing is not about charity work; it is about working for a commission.
The other thing is that no one wants to make small profits all the time. Any new affiliate will be excited to see what he is earning, even though it is a small commission. However, if the commission does increase after a while or even after more input, an affiliate may begin losing hope.
However, not all niches are profitable. On the other hand, some products take too long to sell. That is why you need to research the most profitable niche(s) so that you don't end up giving up.
Nevertheless, I will give you a piece of advice. Imagine going for a niche you have zero interest in. What do you think will happen after a while when you may be the one who will be writing reviews for your affiliate marketing site?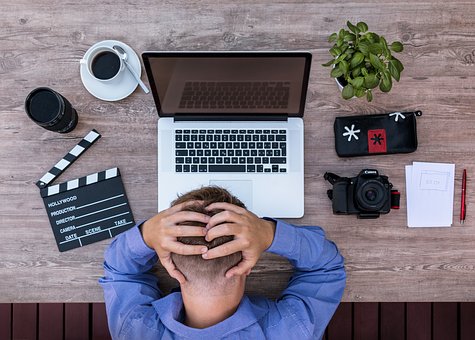 Do you think passive income is enough reason to motivate you to write every day? I do not think so. That's why you need a niche that you will be comfortable writing on even when the site is making little (no) profit. Remember, once you set up that site, you will be writing reviews for as long as it is there.
Write Excellent Content But Remain Truthful
Don't just think about earning money through affiliate marketing. Think about your clients. I have seen people say that all they want is to make more money through their online businesses. But I will tell you something.
If all you want is to make passive income, you will compromise on the quality of your content, and the next thing you should expect is losing customers.
That, too, comes with some consequences; losing the money you were chasing. So, if you want to enjoy your income for a long, provide excellent content.
Let your product reviews be free of plagiarism, grammatical issues, and false information. Yes, don't lie so that your clients can buy your products. You would rather tell them the truth so that they make sober decisions.
Actually, such affiliates exist. There is one affiliate marketer who is known for genuinely reviewing products without caring if clients will buy the products or not. I mean, even if he is an affiliate marketer, he seeks to provide his clients with true information instead of false details.
I bet you think he has few followers due to his sincerity. No, he has many followers.
See what Neil Patel says about him.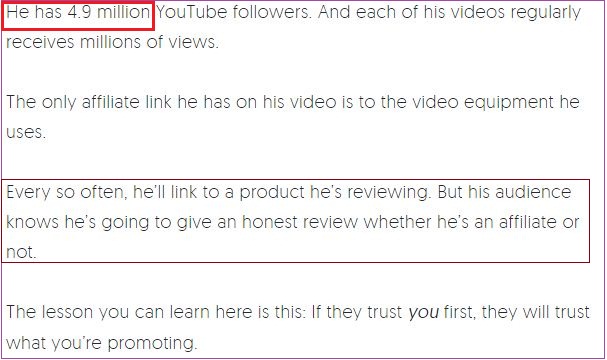 So, if Marques Browlee who is a tech reviewer, has made it while being sincere with his audience, definitely, you too can make it.
Offer High-Quality Products
It is not all about quality content. No, there is much more than that. For instance, you need to consider your affiliate links. Do they relate to the products you are promoting, or are you trying to connect two things that do not have anything in common?
Again, you know that no one is seeking to spend their hard-earned money on poor-quality products. Again, a frustrated customer can write a very negative review for you which will make other clients think that you are a con.
Before you can clear the air and re-brand your company, it may take quite a considerable time, or it may never happen.
Now, you may have heard that for you to earn good passive income through affiliate marketing; you must promote expensive products. That is true. But again, not all expensive products are of high quality.
Some companies over-price things. And… that is not professional!
The thing is; do proper research and know more about the product. If you can buy it, great! Go ahead and buy. That way, you will give a genuine review of the product and promote it confidently, knowing that you understand it well.
On the other hand, you will be in a position to answer clients' questions about the product, and of course, that will come with an advantage; buyers will trust you.
There's another pro, yet. Buyers will want to buy through your affiliate link since they know you are genuine, you offer high-quality products, and you can give them the right advice whenever they need it. That's fantastic, right?
Promote Products With High Customer Reviews
This is very crucial for any serious affiliate. Check on the reviews because if a product doesn't have good reviews, it may not sell fast. At least a review of 4.0 and above is good.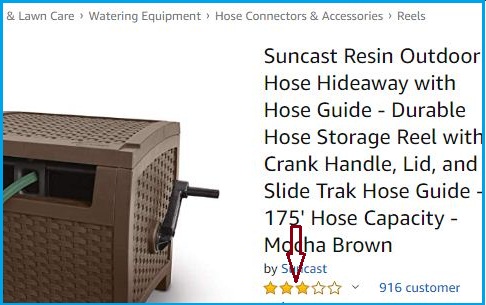 In fact, I normally look at the exact percentage to be sure which product is good because 4.5 is too general to know the exact reviews the product has. On the other hand, 89% is more specific. I would recommend you do the same.
The screenshot below shows you where exactly to find that. You just hover the mouse on the review section, and the details will pop up.
In the screenshot below, you can see the exact percentage, which is 72%. We could not see that in the 1st image.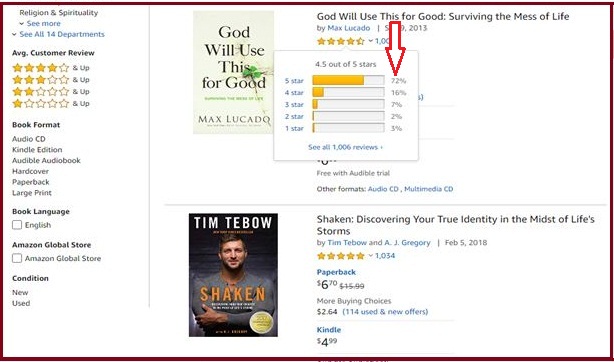 Nevertheless, even as you consider the reviews, remember people are blessed differently in matters of financial ability. It would, therefore, be wise if you balance things. I mean, promote both expensive and cheap products so that you can have all customers on board.
Why You Should Not Think About Affiliate Marketing
Affiliate marketing is not for everyone. You are definitely wondering if you heard me right. The truth is; you did!
Why?
A few things may make you unfit for this online business:
You Want To Start Earning Instantly
Now, there is something I have seen in most people who are starting online businesses to either make a living through passive income or write content for clients.
Most of them want to start making money immediately after they are through with the training. Some want to start earning before the training is over. Yes, it is possible, but such a mentality should be trampled on. Forever!
Why? Businesses, whether online or offline, need some considerable time before you can start making good money from them.
For example, there is no way you will become an affiliate marketer today, and tomorrow you expect to earn thousands. It will take some considerable time.
Actually, you need to think of around 6 months to one year before you can see some good money from affiliate marketing.
You Do Not Want To Spend A Penny On It
Every business needs some capital to get started. This one is no different. You will need to invest in it as well.
Yes, it is free to join affiliate sites, but no one will write content for you without charging you not unless you write for yourself.
On the other hand, if you know how to write the content, that is good, but you will need an internet connection and a computer to start working.
Plus, if you will be using a blog/website, you will definitely need some capital for domain and hosting. That is why I said you will need to invest in this business before you think of making any passive income.
Unwilling To Promote Quality Products
Don't be too selfish, as some have a habit of doing. I mean, some people never have their clients in mind when selling products. They don't want to give quality products.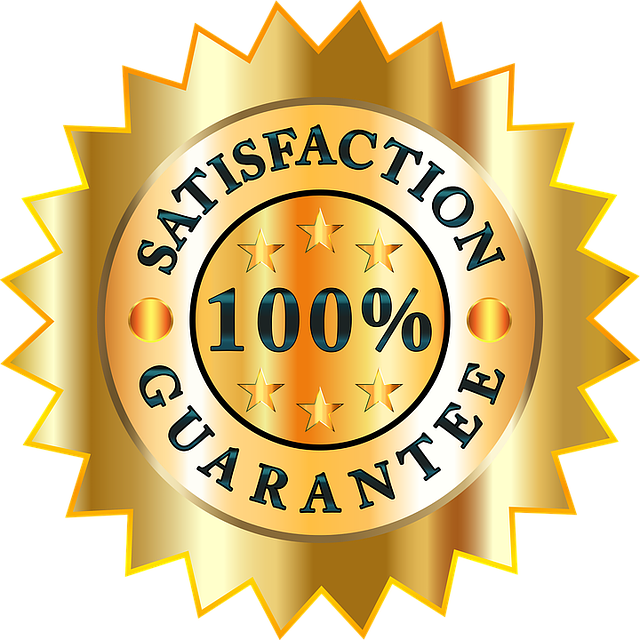 You see, it is okay to want to earn a lot from each product you market. That is quite okay. I would also want to have the same.
Nevertheless, if the product you are selling is giving you a high commission but is of poor quality, it will either make your business come to a sudden stop or generate little profits, if any.
Such profit may come from those who know nothing about your products, and once they know about them, they will definitely look for the "exit route."
You Are Not Creative
Oh yes, every affiliate (except those who try to make money fast) will try their best to sell the best products available. That being the case, you may find that all the other affiliates are promoting the same products you want to promote. I mean, the competition is high and very stiff.
Does that mean you should not promote those products? No, not at all. Does it mean that you should go for poor-quality products because no one is promoting them? Never!
What that mean is that you should be very creative by offering discounts once in a while so that people buy your products.
Passion And Persistence Are Not In Your DNA
If you are one who gives up so easily, don't try affiliate marketing. I think I had been one person who could really give up so fast and easily, but I have changed! Actually, were it not that I was at my end point when I started the online business, I would have given up one month after the training.
But trust me; I had to persist.
I had to try again and again. I had to make it work for me, and sure enough, after six weeks, it did.
In the same case, you must be persistent in affiliate marketing if you really want to increase your earnings through passive income. You don't give up that easily and expect to earn awesomely. See, it takes a while to have your site rank.
Also, before people know you and trust your products, it will definitely take a couple of months or years.
Again, you must have a passion for the niche you are going for. That is the only way you keep going, even when things become tough. Only passion can keep you going for almost one year of doing affiliate marketing without earning.
But the good thing is that there are those who started it and made some good passive income several months into it. I believe it depends on how well you do it.
You Are Lazy
You may still make some passive income by just sitting, watching, or sleeping all day, but you will definitely make little profit.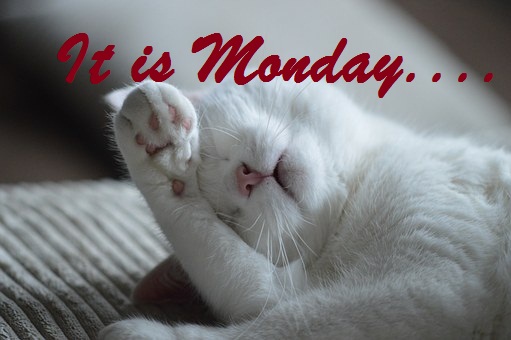 The bills that you need to settle at the end of each month cannot allow you to have a peaceful rest all day.
Why?
Though there will be income, it may be too little to cater for all your bills. You, therefore, need to apply the right strategies, which will definitely cost you a lot of time.
Previously, I said it is not easy, but it is possible to make passive income even while you are sleeping. This is because there's no way you are going to earn any commission without making any sales.
On the other hand, there is (little) no commission if you do not have good traffic.
So, there's no way you are going to spend all day sleeping.
No, you'll be busy figuring out how to lead traffic to your affiliate site as well as make more sales each day. Plus, you need to do detailed research before you settle on the right product to promote.
The other thing to remember is that making passive income through affiliate marketing doesn't just happen in one day or a couple of weeks.
It actually takes some considerable time, depending on how well you are able to generate traffic on your site and convince people to buy your products.
You Have No Time For Your Audience
If you only got time to post content on your site but not to respond to questions that your audience asks, then you definitely need not waste your time on this. You see, once people buy a product, they may encounter some difficulties with using the product.
They'll, of course, seek advice from the site they purchased products from. They will want clarification and the like.
They may also need repair or a change of product. Whom do you think they will reach out to? Of course, it is you. What do you think happens if they only ask questions and there is nobody to answer them, yet the website gets updated with content every now and then?
They will think you are ignoring them or you are a scammer and the like. In return, they will leave negative reviews. At the end of it all, you will lose. See, it is not only about passive income; there is more to that.
The other thing you need to know is that if people get help from you, they will believe that you know and understand the products you are promoting, and they will want to buy from you and not any other affiliate.
Conclusion
Affiliate marketing is not as hard as some think; neither is it for lazy people. The fact that you can comfortably make passive income through it doesn't mean there is nothing you are required to do.
If you are sure you want to earn handsomely from this online venture, give it your best, be patient, and apply the right tactics, and you'll definitely see its great rewards.